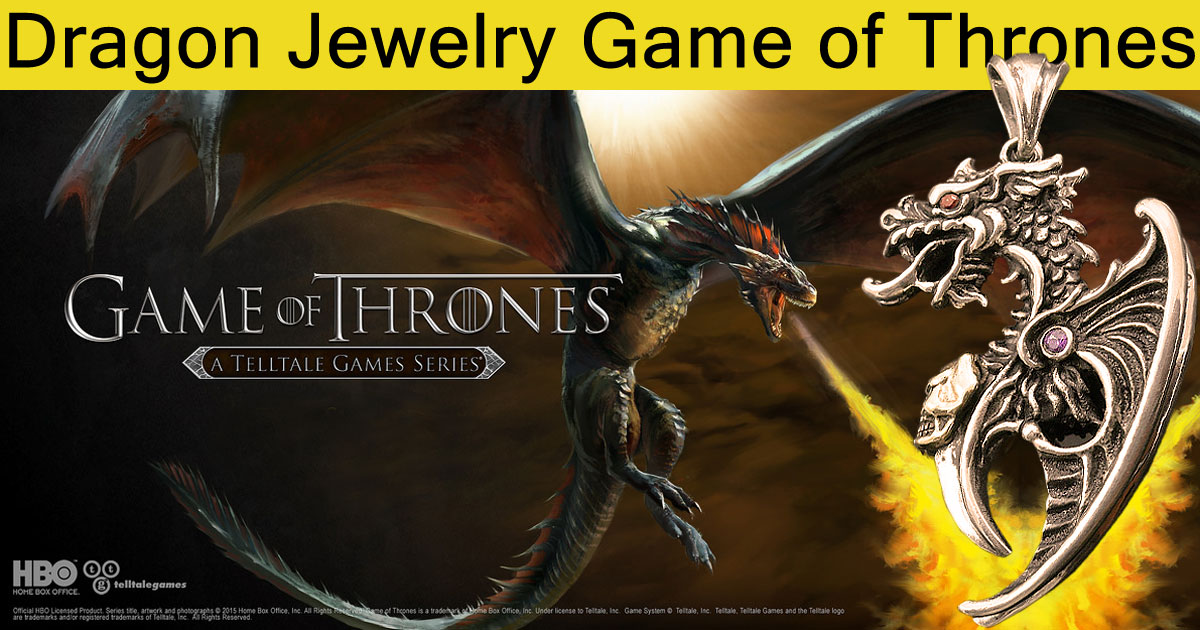 We can all agree that skulls have been very popular in jewelry in recent years. We also know that while skulls aren't going anywhere, there is a new player in town. The HBO series Game of Thrones has shed light an amazing jewelry trend: DRAGON JEWELRY. The mystique and power of the dragon has made its way into mainstream jewelry trends. Dragon jewelry – Dragon rings, dragon bracelets and dragon pendants have made their way into your local and online jewelry market.
Fantasy jewelry incorporating dragons, unicorns, and other fictional characters has been around for decades. Similar to the skull, the dragon symbol evokes a sense of power and undefeated confidence. For centuries, the Chinese dragon has symbolized potent and auspicious powers. These included control over water, rainfall, typhoons, and floods. In addition, the dragon is a symbol of strength, power, and good luck.
Fictional fantasy stories such as Game of Thrones incorporate many different types of symbolic characters. For example, the dragons in Game of Thrones notoriously help their mother, Daenerys Targaryen, defeat their enemies. This reaffirms their power and strength in the overall storyline, making them creatures to fear and submit to. It is no wonder that more and more people have come to admire the dragon symbol in jewelry.
In addition to being a symbol of power of strength, the dragon creature is physically powerful. Massive wings, snake-like scales, and a breath of fire makes this creature quite unique. It can be depicted in various ways within specific types of jewelry because of its unique physical attributes. For example, a twisted dragon symbol can be combined with an axe for extra impact, such as this Aquarius Dragon Twisted on Axe Gold & Silver Pendant. A more subtle version of the dragon is incorporated in the design of the Barbarossa Dragon Ruby Silver Ring.
Dragon jewelry is not going anywhere anytime soon. The dragon is a timeless and powerful symbol of strength that people will enjoy wearing for years to come, through "Fire and Blood."